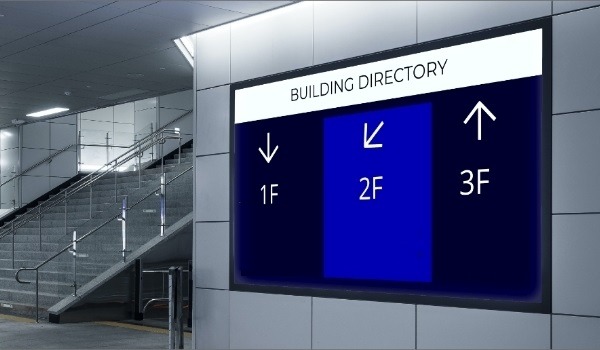 08 Jan

Wayfinding Signs 101: How Directional Signage Functions?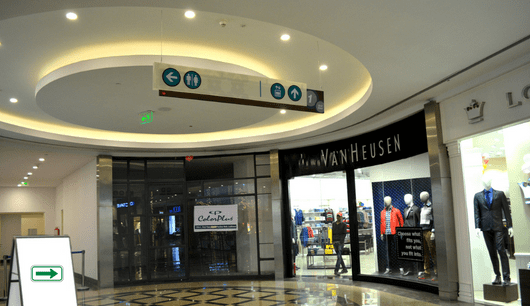 Whether you own a small business or large organization, wayfinding signage can make it simple for your potential customers or employees to find their way around the business facility without getting lost or confused. This simple practice can help you save a lot of money and time explaining the routes of the business facility or hiring a staff to do the job.
Wayfinding signage has been in the industry for decades and is used by several industry sectors. Over the past few years, many businesses have shifted to wayfinding digital signage to modernize their office spaces and enhance the visual appeal of their offline marketing tactics.
Besides providing navigation assistance, wayfinding signs can also be used to promote your business activities and attract the attention of potential customers passing by your stores. It is one of the most cost-effective ways to expand your business exponentially.
Continue reading this blog till the end to unlock the best wayfinding signage solutions for all your offline marketing needs and concerns.
Are wayfinding and signage the same thing?
Most people believe that wayfinding and signage are the same things. Although considered closely related, they are not the same thing. Signage is used to communicate necessary information about the business and help visitors navigate an office space. On the other hand, wayfinding signs are limited to a particular part or route of your business.
Generally, businesses use universal symbols to design their wayfinding signage for their different purposes. Unlike signages, you can use wayfinding digital signs almost anywhere in your business facility.
What are the five principles of wayfinding?
Before installing wayfinding office door signs or others, let us look at the five most imperative principles of using wayfinding signs for successful business offline marketing practices. Here are the five principles to consider when designing your business wayfinding custom signs in NYC.
Create an identity for a unique location
To avoid confusion and help your visitors from getting lost inside your business places, use unique identity (logo, image, graphic, etc.) wayfinding signs for different departments stores/offices in your business facility. You can use different colors, designs, patterns, and more to increase the abilities of your visitors to memorize or visualize the wayfinding.
Use landmarks to give orientation cues
The landmark feature can help organize and define space more effectively. The landmark increases the visuality of a large surrounding area. Hence, using the landmark system can be beneficial for your business. 
Design well-structured paths  
It is extremely important to be clear and specific with the paths. Ensure to design a well-structured and functional digital navigator for your wayfinding signs. At Vida Signs, we help brands create unique and visually pleasing signage boards for their marketing purpose. Call us at (212)-388-9388 to learn more about our services.
Use different visuals for different regions
To assist in seamless wayfinding, subdivide the space into different regions using unique and innovative visual attributes. Doing this will allow visitors/employees to find their way within a few minutes. Create visible boundaries to help differentiate different regions or areas.
Avoid giving too many navigational choices
Too many navigational choices might create confusion and make your sign structure look unorganized. This principle is beneficial for businesses that want to communicate a story for every navigator to see.
What are wayfinding symbols?
 Now let us look at some popular and widely used wayfinding symbols across most industry sectors.
Identification signs
Identification signs are not designed to inform visitors/ employees that they have reached their destination. You can use such signs outside your office rooms, warehouse or store rooms, and more. To increase visibility, you can use pictures, signs, or bigger fonts for your identification signs.
Directional signs
As the name suggests, directional signs are used to show visitors directions to reach a particular area in your office or business place. You can use directional signs to guide visitors' way to common rooms, restrooms, washrooms, and exit areas. Use vibrant colors that are easily visible from afar.
Informational signs
Similar to identification signs, informational signs provide users with information about certain activities or alert them on their way to the final destination. Warning signs, alert signs, and construction signs are some examples of informational signs. This sign will help you keep your visitor safe from unwanted casualties.
Regulatory signs
Regulatory signs are installed to inform users about the rules and regulations in place for certain business facilities or localities. One of the most popular examples of regulatory signs is no parking and speed limit signs.  This type of wayfinding sign can be beneficial for chemical, construction, and other related industries.
At Vida Signs, we consist of a team of highly qualified and experienced professionals who work tirelessly to help you find sound solutions to all your business sign needs and concerns. Get in touch with our experts to earn more about digital printing NYC signs or our signage service.