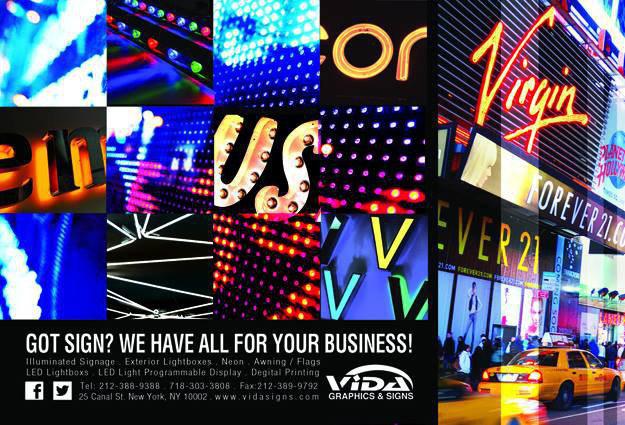 15 May

Get Colorful and Creative Neon Signs to Promote Your Business in NYC

NYC is one of the biggest cities in the world. There are businesses competing for customer's attention. Neon and other types of light sign boxes helps businesses capture the attention of passing people and regular customers.
Vida Signs is one of the most competitive sign makers in New York. We offer great competitive rates to design and build all types of indoor and outdoor signs for businesses. Any New Yorker or a tourist knowns neon business signs are one of the important part of the whole city ambience. These neon signs have been around in the US since 1920s, and they are still being used for effective and economical advertising.

At Vida Signs, we can build any type sign for your business. Some of most requested types of advertising signs are;
Channel Letters
Lightboxes
Reception signs
Neon signs
Ultra-thin LED light displays
Special Event Neon Signs:
We can make neon signs in any shape, form or color as per required by the businesses in NYC. Business events can be done indoors or outdoors. These events always attract many people. Our large event scale neon signs will help to your business to stand out in the crowd of other businesses and customers.
Vida Signs can make large vertical and horizontal event scale Neon Signs NYC. These neon signs are energy efficient and produce less heat, so they can be used in indoor venues. We use good quality materials and high quality craftsmen so you can be assured about the longevity of the signs.
Neon signs are an economical method of advertising, as the average life span of any neon sign is around 50 years. These neon signs can be stored and used on an event by event basis without any faults. As these lights have a longer life span and can be molded and bended to made in any shape, they make a great and hassle free business sign choice.
Vida Signs can make your neon signs even better! We can incorporate other details such as channel letters in your neon signs NYC. These channel letters can highlight the name, motto, or any particular product or service of your business. We can make these signs with brighter colors and with longer display hours than any other sign maker in New York City. We also offer various personalization packages with LED lights for better results and energy consumption.
Light Box Signs NYC:
We are a NYC sign maker. We understand the New York customers like no one other sign makers. We have been helping small and local business owners with their display and advertising needs for many years.
Our superior quality light boxes are one of the excellent options we offer our business clients. These light boxes NYC are a great choice to display menu, product, and services for all types of businesses. our lightboxes can be completely personalized to match your business and store theme. You can choose the background color, display font- its color and size. You choose and we will make it for you! Our lightboxes can be used indoor and outdoor for all types of advertising purposes.
After you place your order, we will finalize all the details and delivery time. We also offer installation services for all types neon and light boxes signs. At Vida Signs, we only use excellent quality materials and our diverse portfolio is a testament to our commitment to quality and customer service. We have helped many local and franchises with their display and advertising needs. To know more about cost effective advertising options call us today or visit our page today;